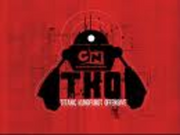 TKO was made by Cartoon Network. It is a free game where you get to play as a Kung Fu robot and fight other players. It is the second most popular game on Cartoon Network. The first is Fusion Fall. Ever since TKO began, More Bots were made....EGGGG!
It was created by Cartoon Network.
It is Cartoon Network's 2nd most popular game.
Ad blocker interference detected!
Wikia is a free-to-use site that makes money from advertising. We have a modified experience for viewers using ad blockers

Wikia is not accessible if you've made further modifications. Remove the custom ad blocker rule(s) and the page will load as expected.